Speaker Series – October 2018
October 17, 2018 @ 7:30 pm

-

9:00 pm
Can drones help save our bird populations?
Drones: A New Tool for Bird Research and Conservation
The use of small unmanned vehicle systems (UVS; aka drones) is rapidly evolving as wildlife biologists and managers all over the worldadopt them for conducting population surveys, tracking radio-tagged animals, sensing and observing animals in sequestered or dangerous places, mapping and monitoring wild habitats, and deterring poachers. This naturally includes avian species.
In the last ten years, Dr. David Bird and his students and collaborators have experimented with using drones torecord the nest contents of several raptorial bird species nesting in Saskatchewan and Montana, and monitor their respective behavioral responses. They also monitored the abundance of nesting common terns in a colony in New Brunswick, to count seabirds in colonies in Newfoundland and the Arctic, to map breeding habitat of threatened least bitterns near Baie-du-Febvre, Quebec, to detect heat signatures from bird nests, to radio-track songbirds in Montmorency, Quebec, and to disperse nuisance birds such as starlings from vineyards and blueberry crops in British Columbia.
Compared to using manned light airplanes or helicopters, flying drones can be cheaper, greener, less obtrusive, and much safer (the number one source of mortality for wildlife biologists is dying in a plane or helicopter crash!). And more recent research suggests yet another benefit – acquiring more accurate and precise counts of target wildlife. But as Dr. Bird points out in his visual presentation, we still have much to learn before fully embracing this technology.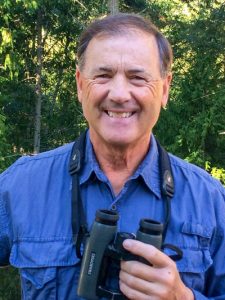 Speaker: Dr. David Bird
Emeritus Professor of Wildlife Biology and Director of the Avian Science and Conservation Centre of McGill University in Montreal, Quebec. Dr. Bird is a past-president of the Raptor Research Foundation Inc., past-president of the Society of Canadian Ornithologists, an elected Fellow of the American Ornithologists Union, a former member of the Board of Directors of the American Birding Association, an elected member representing Canada on the prestigious International Ornithological Committee, and recently, a member of the Board of Directors of Bird Studies Canada.