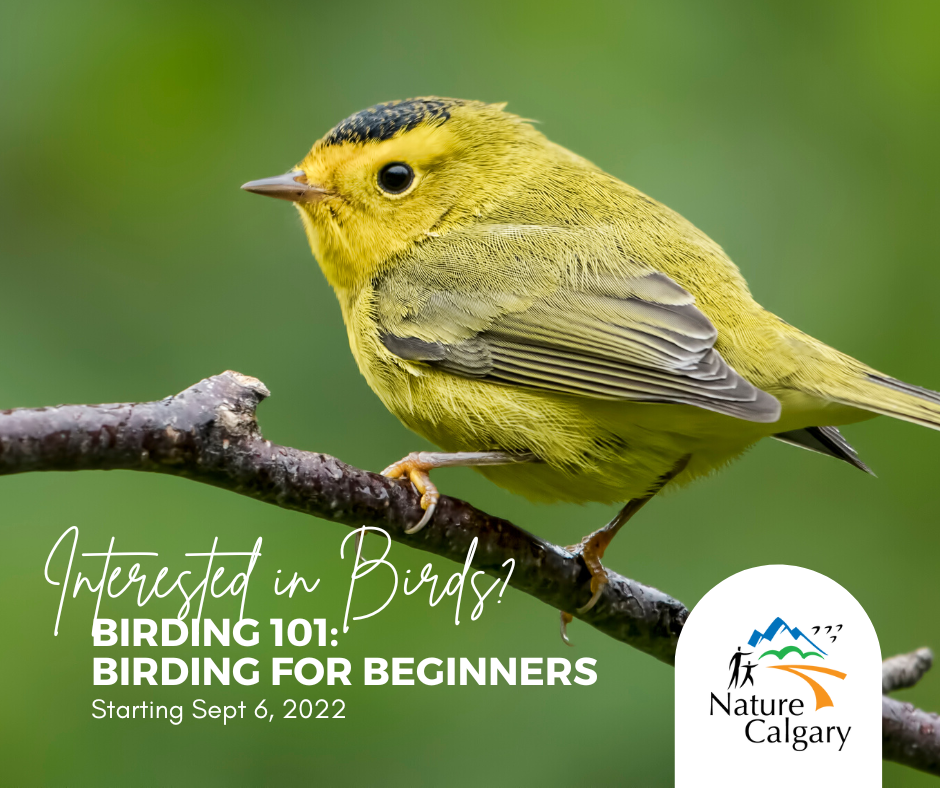 Join Nature Calgary for four online sessions and four in-person sessions to learn the basics of birding.
The evening online sessions run on TUESDAY NIGHTS (7:30 – 8:30PM) from September 6th to September 27th and will cover:
Equipment & Where to find birds (Tuesday Sept 6)

What to Notice when birding (Tuesday Sept 13)

Birding Behaviour Basics (Tuesday Sept 20)

Bird Habitats (Tuesday Sept 27)

The in-person field trip portion will be on Saturday mornings from 9:00am – 11:00am at four different parks around Calgary. We will provide all participants with binoculars.

Carburn Park (Saturday September 10)

Weaselhead Park (Saturday September 17)

Inglewood Bird Sanctuary (Saturday September 24)

Confederation Park (Saturday October 1)

This course is free for Nature Calgary members & Friends of Nature Alberta (check with your local Calgary Nature Club) and $50 for non-members.
If you are a non-member, registration in this course will provide you with a one-year family membership. This will give you access to all our field trips (we run over 125 a year), our speaker series and bird study group sessions, as well as a monthly newsletter. Please note: if you are registering 2 or more family members in the course choose 1 non-member rate and the remainder as Nature Calgary members.
If you have questions about the course please email: communications@naturecalgary.com