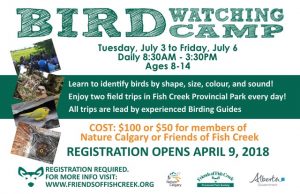 We are very excited that you are interested in birds, and we are even more excited that now we can offer your children and opportunity to engage in this wonderful lifetime activity or maybe something bigger – a field of study or career in ornithology! Our bird camp will be exclusively about birds, their habitat, how to identify them and much, much more about birds. Of course, if we see a deer or moose, we will pause to talk about them, but our main focus will be about BIRDS and the joy and excitement they bring to you now and in the future. So, if BIRDS are your thing, keep reading.
There are a few spots left so register at https://friendsoffishcreek.org/event/birdcamp/
Bird Camp Details
Program Location: Fish Creek Park – The Theatre at the Bow Valley Ranch Visitor Centre
Dates: Tuesday, July 3 to Friday, July 6 from 8:30am to 3:30pm.
Group Size: Limited to 24 participants ages 8 – 14. For indoor activities, all participants will be together and for outdoor trips in the park, to identify birds, groups will be small, 6 to 8/group, with a trip in the morning and one in the afternoon.
Registration: Opens April 9, 2018
What info will be collected: We will require name, age, address, FFCPP or Nature Calgary family membership info, parent information, health information (limited) etc. This information will be on the registration form.
Cost: $50 if you are a Family member of either Friends of Fish Creek Park or Nature Calgary. $100 for non-members.
Program Leaders: The two camp teachers were teachers in the Calgary school system and have had extensive birding experiences, which they want to share with your child. All other volunteers have a great deal of experience as birding guides in the Calgary area and Fish Creek Park in particular. All volunteers have a current Vulnerable Sector Check registered with FFCPP.
Participants need to bring: clothes for weather (rain jacket, jacket, hat, bug spray, sun screen, good walking shoes), binoculars (if you have a pair), bird books (if you have one), water bottle, a litterless snack and lunch, and knapsack.
Participants will have access to the following during Bird Camp: journal which participants will get to keep. While in the program participants will have access to binoculars, bird books, pencils, coloured pencils etc.
Sign up today for the camp and enjoy learning about birds, how to recognize them, and some digital app or sites to help you improve your birding skills.