Bird Study Group February 2019
February 6, 2019 @ 7:30 pm
Alberta 2018 – An Alberta Big Year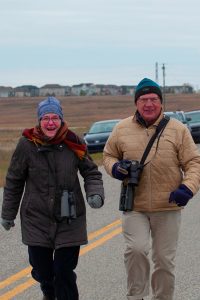 Presented by Howard Heffler
Howard Heffler is a chemical engineer who spent most of his career in Calgary as an environmental manager in the petroleum industry. He and his wife, Lyn, have always participated in outdoor activities such as hiking, skiing, and paddling. Over the past twenty years, birding has grown to become a primary interest. During 2018, Howard, with the support of Lyn and friends, focused all of his birding efforts in Alberta.
Howard's presentation will first describe the planning, organization and results of his "big year". The objective was not to set any record, but to develop a better appreciation of Alberta's birds and ecoregions. The second half will be an entertaining series of anecdotes and adventures to reach the year-end total of 304 species.
Bird Study Group meetings are held at 7:30pm the first Wednesday of the month at Cardel Theatre (180 Quarry Park Boulevard SE), with the exception of January 2019, where the group will meet the 2nd Wednesday. Free for members, $5 for non-members.
Related Events